καλή όρεξη!
Welcome to our little piece of Greece in Cambridge. 33 Ainslie Street N will be better known as Greek Street Gyro Fast Fresh Authentic Greek Food Cambridge. From our welcoming staff and our Greek vibe to our Handcrafted Souvlaki, Gyros and Mousaka we are proud to bring Cambridge Authentic Greek Cuisine. OPA !!! See all the delicious menu options by visiting our Menu Page or see all our options for Catering in Cambridge
---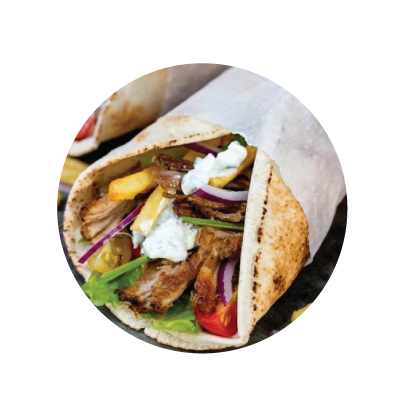 ---
Gyros
Marinated and cooked to perfection on our verticle rotisserie oven our gyros come direct from Greece from the prep, cooking, and to your mouth.
View menu
---
Souvlaki
Chicken and Pork souvlaki, on a stick or in a pita, or in a dinner have it the way you like Greek Food Cambridge!
View menu
---
Moussaka
A Greek classic and a greek favourite, delicious bachemel sauce atop groud beef, egg plant for a delicious meal.
View menu
---
Rice and Potatoes
Most of our meals come with our delicious lemon seasoned rice and potatoes.
View menu
---
Traditional
recipes
---
We have brought the fresh and healthy mediterranean style of cooking to Cambridge and we wish to share it with you.
Join us for Greek Classics such as, Souvlaki, Gyros, Moussaka.
Read more